After my post on Greek stifado I received some very encouraging comments on how much people liked greek food and one of them on my twitter account (which you can follow here) evolved like this: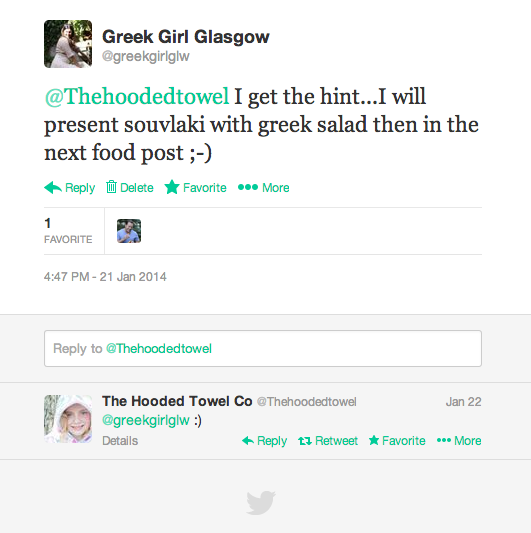 So here it is dear @thehoodedtowel, as promised. The recipe is plenty for 4 hungry, for greek food, individuals.
For the pitta souvlaki you will need:
+900gr thick cut pork shoulder steak, chopped in squares (you can use chicken breast also or just veggies to satisfy all appetites)
+Salt, pepper, dried oregano
+1 Tablespoon french mustard
+250ml of white wine
+Some olive oil
+Juice of 1 squeezed lemon
+French fries
+Pita breads or white flour wraps, heated a bit in a warm oven (there are recipes to bake your own but I do not usually bother with that ;-) )
+Tomato ketchup or salsa (optional)
So first I season the pork with salt and pepper and then marinate it in the white wine for at least 1hour (put it in the fridge please!).
I then make it into lovely skewered souvlaki and stick it under a hot grill until lovely and brown!
While they cook I make a marinade using olive oil, dried oregano, mustard and a bit of salt and pepper. I put this in a dish that can take the full length of my skewers and I mix it well so all ingredients are combined.
When my skewers are ready, I put them immediately in my marinade to rest. I turn them often so all of the meat gets the lovely juices.
For the tzatziki:
500gr Greek strained yogurt (I like Total 0%)
1 cucumber grated, skin peeled away
3 garlic cloves, finely chopped or preferably crushed
1 Tablespoon red wine vinegar
A bunch of dill, finely chopped
Half a bunch of mint, finely chopped
A bit of salt and pepper
I prepare the cucumber.
And then I crush the garlic in a deep bowl.
I add the yogurt.
And the cucumber (make sure you strain the extra water).
Then I add the dill, mint, salt, pepper, and red wine vinegar.
I mix well with a spoon until it looks like this:
For the Greek salad:
1 green pepper sliced
6 tomatoes chopped in 8 pieces (I know I can be very specific!)
1 cucumber, cut in round slices
1 piece of Greek feta cheese (and not white salad cheese!)
Kalamata olives
4 tablespoons of olive oil
Salt and dried oregano
I chop and slice and cut everything to nice different shapes.
I add dried oregano (now my secret is that I use proper greek oregano which my granny has picked from the mountain of Corfu, so if you have any Greek friends tell them next time to bring you some as it makes a massive difference).
Then I add olive oil and a drop of red wine vinegar.
Last is the feta and olives. I have used green olives for this salad but if you want to go totally traditional then you have to go with the excellent Kalamata olives.
How to make your pitta-souvlaki:
This is completely my style and I follow this order because I cannot find any proper greek pitta bread in Glasgow (if you know someone who brings original ones from Greece please let me know).
I put a tablespoon of tzatziki on my wrap and then add the souvlaki meat.
Then add some french fries, some tomatoes, and some ketchup.
I close it as well as I can…with various degrees of success.
For the next stage it is essential to remember that it is important to make a mess!
Colin loves to accompany it with a bottle of beer (the Greek way). I have always loved to have my pitas with Fanta Lemon (childhood memories).